Term 4 Issue 2 5th December 2022
Principal's News
Dear Families,
It seems like only yesterday when our 2022 school year began with our staff and families engaging in our fun daily at home activities before officially retuning to the classroom in person. Our school year has been a busy one with many varied activities and events occurring throughout the year. I would like to commend our students for their tremendous efforts, hard work and determination in many areas of their learning this year. It has been wonderful to see the growth of all of students. I would like to thank all of our families and community members for their contributions to our school throughout the year. We have had a number of families assist with various events this year and this has assistance has been valued by all.
This year we say farewell to Miss Ray, Mrs Donaldson and Mr Anderson. On behalf of St Patrick's school, I would like to thank each staff member for their time and efforts in providing our students with enriched learning experiences. We wish you all well on your next adventure. I would like to welcome our incoming staff, Miss Kenny (Mrs Bryant in 2023) and Miss Callinan. Staff and students have enjoyed getting to know you both this term and look forward to working with you in the New Year.
Our final week of school saw our students and families attend our awards night, art show and end of year graduation mass. It was a busy fun filled week and I commend our students for their outstanding behaviour at these events. During our graduation mass our departing year six students welcomed our incoming 2023 prep students and 2023 student and vice student leaders. This was a well-received new tradition to our of end of year mass.
On Wednesday we farewelled our two year 6 students, Kylah and Hallie. We wish you both all the very best on your next schooling journey.
I would like to wish you all a happy and safe holiday and I look forward to welcoming you all back on Friday 27th January 2023.
Warm regards,
Kylie
New Term Dates for 2023
Pupil Free Day - Monday, 23rd January
Pupil Free Day - Tuesday, 24th January
Pupil Free Day - Wednesday, 25th January
Australia Day Holiday - Thursday, 26th January
First Day of School - Friday, 27th January
PPF Meeting
The next meeting of the PPF Assn will be held in Term 1 2023. The date will be advised in the new year.
Cookie Dough Fundraiser
Thank you to everyone who supported this amazing fundraiser. The total of 272 tubs sold was and a total of $1,088.00 was raised.


St Columba's Parish Mass Dates
Saturday 17th December 6pm
Christmas Mass 25th December 7.30am
Class News : Years 3, 4, 5 and 6
On a recent visit from Father Tom, we walked to the church to familiarise ourselves with the setting and how we will be participating in the mass at the end of the school year. He discussed with the students the expectations and behaviours that are required when attending school mass. The students enjoy their conversations with Father Tom and welcome him each week into our classroom.
Swimming lessons have continued in preparation for the House Swimming Carnival. I was fortunate enough to join the students last week at swimming and managed to get a few photos which I have attached. The class was learning how to do survival breaststroke.
Religion
We recognized Remembrance Day last week with a liturgy led by the students in our class. Students have been researching the significance of the day, rituals associated and prepared the liturgy for the school community. Mrs Gobbet has also been busy looking at the significance of Remembrance Day with the class.
Mathematics
We have been revising number concepts and our 3D/2D nets and properties. In class, the students have worked with area and perimeter of rectangles and squares and relating to where they could use these in a real-life situation. Students have identified building a fence is where we use perimeter and laying carpet or turf for area.
English
Over the last week students in class have finished their PowerPoint about Mitchell. Each student completed a presentation of their PowerPoint with an oral about their chosen plants, trees, and animals. I was impressed with the presentations and know that with experience they will become more confident with their speaking. Spelling and reading are activities continued in class each day.
Farewell and Thank You
I can't believe my time at St Patrick's Mitchell is coming to an end. I have felt welcomed from the moment I walked into the school and have looked forward to turning up every day sharing the learning journey with the students and my colleagues. Thank you to all the parents who have taken the time to stop and chat and ask about my time here. Kylie and her staff have ensured that my transition into your amazing school was seamless, and I am so glad I was given this opportunity to learn and grow. Thank you also to the community; from the PPF members, businesses in town, the footy club, bowls club, Spa and locals at the meetings I have attended, I have been made to feel welcome and accepted. My time in Mitchell has been fantastic and I have already started to spread the word that young professionals need to really consider buying into this community and invest in it for a few years, they certainly will gain more then they would ever realise. Finally, I would like to wish everyone in the St Patrick's community a safe holiday season, a Merry Christmas, and a Happy New Year. I will follow your journey as a school in 2023 and beyond. Thank you.
Regards
David
Class News: Prep to Year 2
As it always seems to be, Term 4 has flown by in the blink of an eye! What a busy and fun Term we have had. Over the past couple of weeks, the students have visited St Columba's church with Father Tom, had a virtual visit from Healthy Harold and had a very exciting visit from the Broncos to talk with the students about the importance of eating well and exercising to stay healthy, as well as playing some fun footy games with them. Tuesday this week the students displayed their competitive spirit and swimming skills at the swimming carnival.
Students finished up the insect poem unit by performing their poems in front of the class before we ended the Term in English with exploring fairy tales and what makes up a fairy tale. After reading and breaking apart some fairy tales such as Jack and the Beanstalk, Hansel and Gretel, Little Red Riding Hood and The Gingerbread Man, the students realised that these stories had a main character, a problem, a villain/bad guy and a solution to the problem. Everyone created their own main character by drawing them and writing descriptive words about them around their picture and did the same for the setting, where the story was going to take place. After creating their main characters and settings the students worked on planning out their stories before writing them. After working hard at creating and writing their fairy tales, the P-2 students had the opportunity to publish their stories. They turned them into a book by deciding what parts of the story needed to go on each page and illustrating the pages to match the story. Some students who had finished publishing their stories shared them by reading in front of the class during Father Tom's visit
Maths
We finished the term learning about measurement, in particular length and capacity. The class loved exploring the length of different objects around the classroom and picking a unit of measurement to suit what they were measuring, for example using their hands, unifix cubes or paddle pop sticks to measure the objects. Students also used their predictive skills to estimate how long their objects would be before measuring it. Measuring capacity took us out into the playground to use cups of sand or a small container of water as our unit of measurement. It was fantastic seeing how well the students were working together in teams throughout their measuring activities, and even more impressive was their attention to detail with the measurement rules – no gaps and no over laps, as well as using the same unit of measurement when they wanted to compare the length or capacity of two or more different objects.
Religion
A few weeks ago, the whole school visited St Columba's Church with Father Tom. He taught us about how we need to enter the church and the pews and was able to answer questions about the many different parts of the church and why they are there, allowing the students to become familiar with and understand the traditions and rituals of the church.
In the classroom we are wrapping up Religion this Term by learning about the traditions of Christmas. Where we can find the story, why it is an important story to Christians and how Catholics celebrate Christmas.
Science
The P-2 class are always enthusiastic about Science, especially this Term. Learning about minibeast/insects. We have specifically been learning about ants, worms, and snails. Their features and how these features help them to move and eat. They have also been learning about where these insects live (habitats) and why they might live in these different places, as well as what they eat. While investigating these insects the students have been working collaboratively to observe, draw, label, and research information about these insects. To finish off the unit the students used their knowledge about insects to write a 'What am I?' for the class guess what insect they are from the clues they are giving about the insect.
Health
The Healthy Harold virtual visit linked in nicely with our Health unit. In the Healthy Harold visit we learnt about what we can do and say to be a good friend. In our health lessons we have been learning about how to be respectful about our similarities and differences, how other people feel and how we all belong not matter our differences or similarities.
Thank you to all my wonderful students who have made the P-2 class such a beautiful class to teach this year.
Wishing you all the best in 2023.
Miss Ray
P-2 Class
Specialist Teacher News
Well, it's that time of year again where we are busily finishing off assessments and refining end of year performances in preparation for the close of Term 4. It's amazing to reflect back and see how quickly the year has gone but I think it's just as amazing to reflect on the incredible achievements the students have made throughout the course of the year and the individual progress they have made in each of their learning areas.
At the end of this year, and as most of you probably already know, I will be resigning from my position at St Patrick's. I wanted to take this opportunity to thank you as parents for allowing me the opportunity to educate your children and become a small part of their lives. Each one of your children has qualities that positively contribute to the special culture and community at St Patrick's and these should be celebrated. I will miss hearing about their special interests, their weekends and even having them show me their latest dance moves (Mason Mitchell! lol).
Physical Education
This term, all students have participated in swimming as part of their Physical Education unit. Students have attended weekly lessons at the Mitchell Pool to practise and refine those fundamental swimming skills and water safety skills that are important life skills to have. Younger students have focused on water confidence, water safety and beginning swimming skills such as stream lines, kicking, blowing bubbles and floating. Older students have been breaking down and practising each of the four strokes before putting it all back together to perform four recognisable strokes.
Tomorrow is our Annual St Patrick's Swimming Carnival! They students are extremely excited as Patricians and Columbans face off in the water to see which house will take home the trophy. We hope to see as many of you there supporting your children and our school.
Dance
Students have LOVED engaging in there dance unit this term! Yrs 3-6 students have looked at a cultural dance from Greece called the 'Greek Olga Dance' and have been enthusiastically practising this group dance. The P-6 students have been exploring some 'Cocomelon' dances and have particularly enjoyed performing the 'Belly Button Dance!'. Ask them to perform it for you at home. I'm sure they would love to! 😊
Thank you again for making my time at St Patrick's so thoroughly enjoyable. I will miss it dearly but hope to pop in and out next year in a relief capacity. Enjoy your Christmas with your friends and family and I wish you safe travels and good times over the festive season.
Principals Award
Ariya Brock
For displaying a respectful and caring attitude towards keeping our school clean. You upheld several of our Mercy Values when you chose to pick up lots of rubbish during your play time.
Mercy Awards
Lillian Mitchell
For demonstrating the Mercy Values of Compassion. During play time this week, you were asked to help a classmate who had hurt themselves. You immediately stopped playing and kindly spent some your play time walking them to the office and comforting them.
Continue to let the Mercy Values shine through in everything you do!!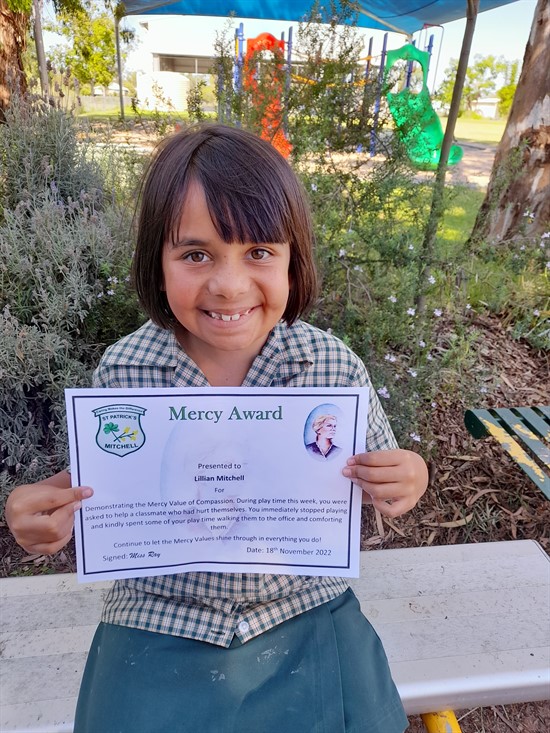 Jiyaanram Maddhu
For demonstrating the Mercy Values of Excellence. When writing a poem about worms in English, you challenged yourself by achieving writing not one,but three poems, showing outstanding work ethic and dedication to your learning. You are a positive role model in the P-2 classroom.
Continue to let the Mercy Values shine through in everything you do!
Awesome Achiever Award
Aryia Brock
For using the Learning Power of Persistence. After being away for the planning of our English story, you worked hard to complete the work you were behind in and then got straight into writing your story about Nan and the Big Bad Wolf. Keep up the great work!
Myhia Mitchell
For using the Learning Power of Persistence. In all subject areas you are consistently giving your best effort, especially in Maths. When learning how to partition numbers to find the missing number you kept trying until you understood what to do and used your new knowledge to solve increasingly difficult problems.
Keep up the great work!
Important Dates for 2022
Saturday, 26th November

Academic Awards Night at Mitchell Art Gallery 4.00 to 6.00 p.m.

Art Show at the Mitchell Art Gallery 6.00 p.m.

Monday, 28th November

Graduation Mass 9.00 to 10.00 a.m.

Wednesday, 30th November
Last Day of Term 4
Thursday, 1st December
Pupil Free Day
Friday, 2nd December
Pupil Free Day
Saturday, 17th December
Mass at St Columba's 6.00 p.m.
Sunday, 25th December
Christmas Mass at St Columba's 7.30 a.m.
Monday, 23rd January
Pupil Free Day
Tuesday, 24th January
Pupil Free Day
Wednesday, 25th January
Pupil Free Day
Thursday, 26th January
Australia Day Holiday
Friday, 27th January
First Day of the School Year